(Written 11/21/2022)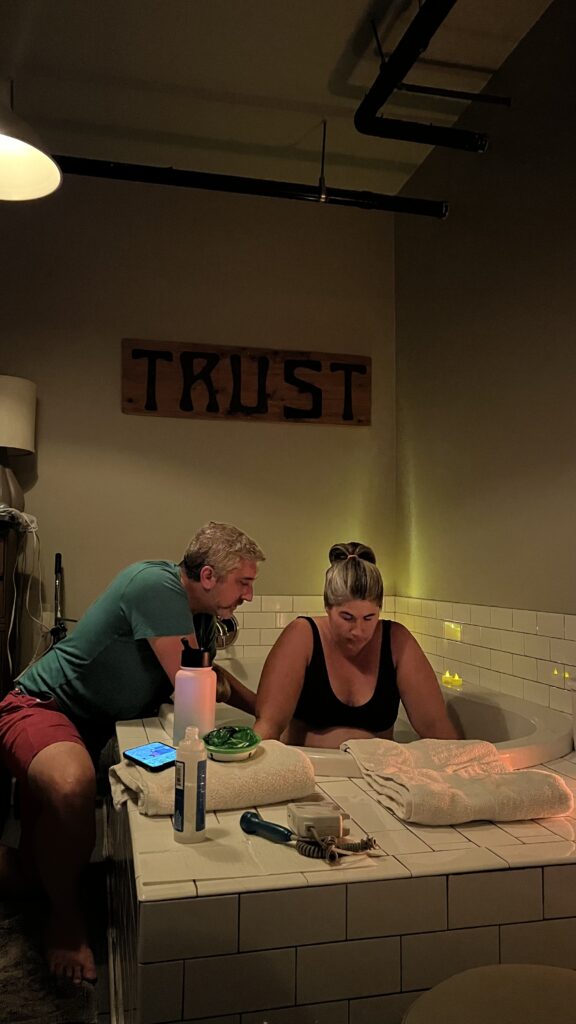 Oliver was born on July 10, 2022, at 10:46 am. He was 9 pounds, 6 ounces, and 22.5 inches long, making him significantly bigger than his big sister! This labor was so completely different from Evie's. Early in the morning of the 10th, around 4:40 am. I was feeling a little crampy, and was losing my mucus plug. I texted the midwives at 5:40 am, telling them I was having twenty second contractions that were manageable. About a half hour later, I asked Jeff to get up and call Becca. To which he was like "Call Becca?" and I was like "JUST CALL HER." She was to come over and watch Evie. 
At that point I also had him call Traci (who was coming to support us at the birth center) and then tried to get myself ready. Most of our items were together, but I wanted to eat and have some water, but my contractions were just too close together to do much. I asked Jeff to call the midwives and they said they'd meet us at the birth center around 7:30, which was about an hour from them, which honestly made me feel desperate. I was laboring in our bathroom, trying to eat a yogurt, and waiting for Becca to arrive. Meanwhile Jeff got the car packed up. Becca arrived and we got ready to leave, and as we did Evie woke up and I got to give her a hug goodbye.
We headed to the birth center and my contractions were really close together and really intense. Traci met us at the parking lot, and it took two or three contractions to even get INTO the birth center. Once we were inside, after a few more contractions and a cervical check, Michelle (our midwife) said she was going to do rebozo to get the baby in a better position so that I would have more reasonable contractions. When she checked me, Michelle said, "OK, you are between 7 and 8, I'm going to say 7" and Jeff was like "centimeters?" and I just was like "NO MONKEYS, OBVIOUSLY CENTIMETERS."
Once I had a (teeny tiny) break in my contractions, Michelle and Jeff did rebozo so that I would be more comfortable and it was like night and day. My contractions went from back-to-back and intense to reasonable 3ish minutes apart. I went from feeling like I absolutely couldn't do the labor to feeling back to having the power to do it. At this point, Michelle drew a bath so we could labor in the bathtub. Jeff got in with me and we labored there for a couple hours. Traci kept us in music, water, and laughing, and of course was taking pictures and video of the whole thing. I felt like I needed to push not too long into this, and Michelle said I was only 9 centimeters, so to not push quite yet. At that point, I really did think I couldn't handle the labor, so I asked for some nitrous oxide, taking some deep breaths of that.
I remember several times Michelle explaining to Jeff what was happening in my body, and at one point she mentioned that there's some time between active labor and pushing where your body gives you a break to catch your breath, so to speak, and feeling like that was bullshit because the contractions were still strong, but in retrospect she was right, and I was in a "lull" for a little while in the tub. Once I started pushing, however, I really felt like I was in unknown territory, because I hadn't pushed with Evie. I pushed in the tub for a bit, but Michelle asked if I was open to other positions because Ollie wasn't progressing. So I got out of the tub and was pushing on the birth chair, and finally in bed. At this point, Michelle told me she could see Ollie's head and I was so doubtful anything was happening. I did say several times I did not want to do this anymore, and she said (and I knew) this was a good sign and that things were moving along well.
Michelle kept asking me for three pushes per contraction, which absolutely wasn't going to happen – I was focusing on two pushes, max. With some gentle coaxing (hah) I did try to eventually give her three pushes while Tayelor and Jeff supported my legs and Traci continued to document and be my cheerleader. Pushing, as it turns out, really hurts! I was probably on the bed for forty minutes or so before we got Ollie close to out – and at that point, Michelle told me he'd be out on the next push. I asked her repeatedly if I was going to tear, and that was my biggest fear, and she said "You're not going to tear, you can push as hard as you can on this next push" so I did, and finally, Ollie's head was out! Michelle turned him a bit to get him in a better position for the rest of his delivery, and I pushed again (maybe twice?) and he was out. I know I had a breather when his head was out to just gear up to push again.
Once little man was out, Michelle was like "I think he's going to be over nine pounds" which like, good thing no one mentioned as we were pushing!! He was on my chest during this time, while we waited for the cord to stop pulsing and waited for me to deliver my placenta (which she said was very large, as well!) Delivering the placenta was more uncomfortable than I thought it was going to be, but once that was done, I was feeling great. No longer nauseated, and our chunky baby was here!! Unlike Evie, Ollie had a name from the get. I got him to latch a bit, and we just enjoyed our time together while Michelle and Tayelor cleaned up, checked us both, etc. Traci put on our non-mellow playlist (we'd started with mellow straight up this time around) and we bopped to some jams and introduced Ollie to Sara Bareilles, naturally.
This second labor was a completely different experience from the first time – in venue (no monitors, no IV, etc.) and in length (Ollie's labor was six hours total, Evie's was about twenty four), and in size (6 lbs 9 oz v. 9 lb 6 oz). Plus, Ollie was so long that Michelle measured him twice because it seemed like he just was SO SO long. After about an hour or so of relaxing, having some snacks, and enjoying Ollie, Tayelor helped me up and helped me take a shower. It felt amazing, and then I was helped to dry off, change, and get back in bed. It was so lovely and comfortable at the birth center, and we stayed just a few hours after his birth. Once Ollie and I were cleared for healthiness, we were ready to get home. Traci ordered us sushi and picked it up on the way for us to enjoy. We were home by 2:45, in the blazing hot sunshine of July. I was so proud of myself that I managed to do an out-of-hospital VBAC by advocating for myself, finding the right providers, support people, and of course having a supportive family. I am endlessly, tremendously in awe of Traci for being our overall birthing coach, the team from Gracefull for supporting me through a pregnancy that included thyroid management and low iron counts, on top of being a TOLAC, and of course of Jeff being there the whole way as a birth partner and Dad of the year. And of course thank you to Rebecca for caring for Evie while we were getting Ollie earthside. Traci and Rebecca hung around for most of the day taking turns with hanging with me and hanging with Evie while I rested and took in little Mr. Oliver! We are so glad he's here, our little missing puzzle piece, who's smiley and chunky and wonderful.